Guess what? Stranger Will isn't all we will have to swallow this year. The novel I Didn't Mean to Be Kevin will hit the shelves too. It is about a man pretending to be a woman's long lost son after she pleaded in the papers for her runaway child to return home. Is it a cry to connect with other people? Maybe. Ross seems to crave interaction and embraces the new media for that very reason. "Those media are extremely conducive to fiction writing: social networks and blogging have enabled me to connect with other writers, and, of course, also readers." He wishes to reach out as far as his arms reach. Reach out to the people taking the effort to read his work. In his short story collection Charactered Pieces he wrote to his readership, "No amount of pandering here can express my gratitude for the simple act of opening this book."
Ross is generous with his time to promote anything written. He seems to see it as his mission to get books in people's hands. He loves the smell and feel of books, the sound of flipping pages, but his mission to get people to read makes him root for eReaders as well. Where does this need come from?
It all makes sense to Ross, obviously. The screaming for human contact; the sharing of the pleasure he always found in books. He's from Kansas, one of the darkest places on earth. There where you're surrounded by wheat no matter what direction you take; where none but Mandein lua Radauq feels at home. A place with many resemblances to a desert isle. Talking about it, Ross's desert island pick would be Mark Z. Danielewski's House of Leaves, not surprising for someone who focused on metafiction in college. "I could re-read House for eternity," he says. I tell him he should now, a day in Kansas feels like that. His eyes flicker hatred for a second before they twinkle again – the lad must like it here.
Other writers high on his list are Brian Evenson and José Saramago, two authors who always have struggle and conflict in their tales, something that even a blind fellow would spot in Ross's work as well. Though he wouldn't ever dream of comparing himself to these masters: "If I'd co-author with Saramago my contributions would be footnotes that read 'yep' and 'I agree' and 'holy crap that's so good!'"
After every serious word, two words follow that bring a smile to your face. Ross enjoys talking about literature, about the craft of writing, he enjoys thinking about it. "You know what would be good? A book-shaped flask that still functions as a book. Or mini stories written on beer bottle labels with pages and everything." He's thankful when someone listens and thinks about the written word and will send embarrassing pictures of himself to show his gratitude. To drop the name I used before, Shakespeare, Ross is like one of The Bard's fools: silly but if allowed to speak freely, he's always right.
But talking to Ross for a long time, it becomes less and less clear to me how he can write black as ink; ink that spill through your body as it replaces your blood, fills your heart, fills your brain. He has an urge to interact or he'll "drink and watch cartoons all day." The longer I'm around him, the less sense it all makes. He likes cartoons and still wrote chilling stories such as "Car Dodging": How the bald man with the needle in his median cubital vein said he found God felt like what a rape would be if afterwards the woman zipped up her pants, fastened her belt and said, 'Thank you, I've been so busy lately.'
This young writer is more than a mystery to me. Which reminded me of the big mystery, the reason why I've looked for him. "You know, Caleb," I ask. "About eleven?"
He nods. "Ten was unfortunately taken."
A statement he makes sound like a question. I shake my head, barely noticeable, and say my goodbyes – hoping someone out there knows the true answer.
___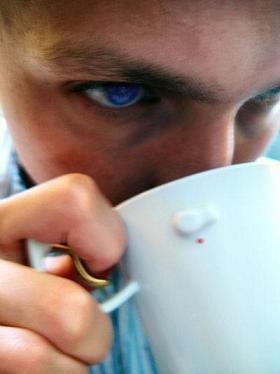 Caleb J Ross has fiction and nonfiction all over. He is the author of Charactered Pieces, Stranger Will (Otherworld Publications, 2011), I Didn't Mean to Be Kevin: a novel (Black Coffee Press, 2011), and As a Machine and Parts (Aqueous books, publish date unknow). He is an editor at Outsider Writers Collective and moderates The Velvet Podcast, which gathers writers for round table discussions on literature. Develop an unhealthy relationship with him at www.calebjross.com, stalk him on Twitter (@calebjross), or pester him on Facebook (facebook.com/rosscaleb).